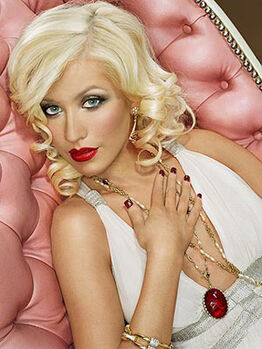 Christina Aguilera is an American pop/R&B singer-songwriter, dancer, record producer, television personality and actress.
Aguilera became popular among children and teenagers when she began starring on the Mickey Mouse Club, before finally signing onto RCA records and releasing her first single, "Reflection", from Disney's Mulan in 1998.
Aguilera became a teen-pop sensation when she released her pop/R&B oriented self-titled debut, Christina Aguilera. The album reached number-one on the Billboard 200 and spawned three number-one hits on the Hot 100, including her signature, "Genie in a Bottle", as well as "Come on Over (All I Want is You)", and "What a Girl Wants".
In 2002, Aguilera's music took on a more mature sound with the release of Stripped, which produced the two rock-oriented hit singles, "Fighter" and "Beautiful", and her best-selling Back to Basics in 2006, which produced the more soul-oriented hits, "Ain't No Other Man" and "Candyman". This finally established Aguilera among critics as a blue-eyed-soul, rather than just a pop star.
Christina Aguilera is often referred to as the "Princess of Pop", alongside rival Britney Spears. She is known for her 4-octave vocal range and use of the whistle register. Her powerful vocals are often compared to those of predecessors Mariah Carey, Whitney Houston and Celine Dion, while her controversial image is compared to Madonna's, Britney Spears', and successor, Lady GaGa's.
Aguilera is one of the best-selling artists in history, having sold over 50 million albums worldwide, and has won a total of 5 Grammys.