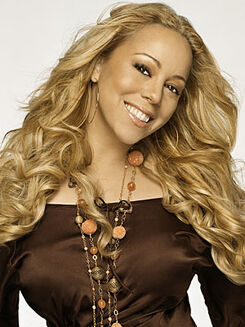 Mariah Carey is an American R&B/pop singer-songwriter, record producer, and actress. Audiences around the world recognize Carey for her 5-octave vocal range, complex melismatic vocal prowess, and her frequent use of the whistle register..
She is often reguarded as the "Queen of Pop", alongside primary rivals Céline Dion and Whitney Houston, whom she is often compared to for her vocal stylings, along with Christina Aguilera, and Beyoncé.
Mariah Carey is known for having a record-breaking total of 18 number-one singles atop the Billboard Hot 100 since 1990, and releasing a total of 13 studio albums, 6 of which reached number-one on the Billboard 200, and all of which reached the top 10, including her two Christmas albums. Carey was the first female artist to have her first 4 singles top the Billboard Hot 100 from her self-titled debut album, Mariah Carey.
Mariah Carey released 2 consecutive best-selling studio albums. Music Box, which remains her best-selling album to-date, sold roughly 32 million copies worldwide. History then repeated itself 2 years later when Daydream sold over 25 million copies worldwide in 1995, records matched by rivals Céline Dion, Whitney Houston and Madonna.
In the late 1990's, Mariah Carey's popularity and career appeared to be going "downhill" following the release of less successful albums such as Chrambracelet and her harshly criticized film debut, Glitter, causing her to depart from two record labels. She remained moslty inactive in terms of music during the early 2000's. However, she made a major comeback in 2005 following the release of The Emancipation of Mimi, which debuted at number-one on the Billboard 200, and spawned her biggest single to-date, "We Belong Together".
Carey is also known to be very involved with the behind-the-scenes aspects of her music, as she writes all her own material, produces her own tracks, and directs her own music videos.
To-date, she has sold over 200 million albums internationally, tying with Céline Dion, and ahead of Whitney Houston by about 30 million, and behind Madonna by 100 million.